Author: ΤΟΝΙΝΟ ΒΕNACQUISTA
Title: ΜΕΛΙΤΖΑΝΕΣ ALLA MAFIA
ISBN: 978-960-691-776-9
Pages: 308
Dimensions: 15X23
Cover_Type: MAΛΑΚΟ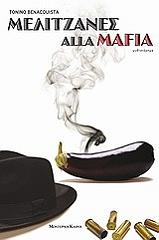 Fred and Maggie Blake and their two children Belle and Warren move into a villa at Cholong-sur-Avre, Normandy in the middle of the night.
Fred claims to the locals that he is a writer, but his real name is Giovanni Manzoni, an ex-Mafia boss who is the diamond in the FBI witness-protection program. Fred's evidence had sent down Don Mimino, the capo di tutti i capi, for a mere 351 years, and he has a twenty million dollar bounty on his head.
As the American family try to settle into life in a small provincial French town they begin to give themselves away with some eccentric behaviour that is normal in New Jersey, and cause serious problems for their FBI protection team of Tom Quintiliani, Di Cicco and Caputo. All seven frequently show their Italian American origins.