A TRIBUTE TO CARLOS SANTANA-LIVE IN ATHENS 8/7/09
CARLOS SANTANA : THE LEGEND
CARLOS SANTANA
The famous guitarist visited Greece in 8.7.09 . Athens was one of his stations of his world tour…The concert took place at Athens Olympic Stadium..All Greeks thank him for his beautiful moments with s us!!! we had fun and had a great time!!!I think his world tour will continue to be enthusiastic and cool…We love Carlos Santana
_____________________________videos_________________________________________________
Santana (Live In Athens) - Intro & Soul Sacrifice [HQ]this video is "Santana live in athens olympic stadium(oaka) on 8/7/2009. Intro & Soul Sacrifice.
by meleneanton
carlo santana speaks about Greece 2009 oaka live in Athens
Carlos Santana. in memory of Michael Jackson. Your out of my life by koyottaki
Carlos Santana in Greece - A tribute to Michael Jackson by booze73
Info:


Carlos Augusto Santana Alves (born 20 July, 1947) is a Mexican-born American Grammy Award-winning rock musician and guitarist.Sanatana became famous in the late 1960s and early 1970s with his band, Santana, which pioneered a blend of rock, salsa and jazz fusion. The band's sound featured his melodic, blues-based guitar lines set against Latin percussion such as timbales and congas.
Santana was born in Autlán de Navarro, Jalisco, Mexico. His father was an professional violinist, and Carlos learned to play the violin at age five and the guitar at age eight. The family moved from Autlán de Navarro to Tijuana, the border city between Mexico and California, and then San Francisco. Carlos stayed in Tijuana but joined his family in San Francisco later and graduated from Mission High School there in 1965.
In San Francisco, the young guitarist got the chance to see his idols, most notably King, perform live. He was also introduced to a variety of new musical influences, including jazz, world music, and folk music, and witnessed the growing hippie movement centered in San Francisco in the 1960s. After several years spent working as a dishwasher in a diner and busking for spare change on the streets, Santana decided to become a full-time musician; in 1966, he formed the Santana Blues Band, with fellow street musicians David Brown and Gregg Rolie (bassist and keyboard player, respectively).[2]
With their highly original blend of Latin-infused rock, jazz, blues, salsa, and African rhythms, the band (which quickly became known simply as Santana) gained an immediate following on the San Francisco club scene. The band's early success, capped off by a memorable performance at Woodstock in 1969, led to a recording contract with Columbia Records, then run by Clive Davis.
DISCOGRAPHY:
Albums with the band Santana
Santana (1969) US: 2x Multi-Platinum
Abraxas (1970) US: 5x Multi-Platinum
Santana III, (1971) US: 2x Multi-Platinum
Caravanserai (1972) US: Platinum
Welcome (1973) US: Gold
Lotus (Live) (1974)
Borboletta (1974) US: Gold
Amigos (1976) US: Gold
Festival (1977) US: Gold
Moonflower (Live/Studio) (1977) US: 2x Multi-Platinum
Inner Secrets (1978) US: Gold
Marathon (1979) US: Gold
Zebop! (1981) US: Platinum
Shango (1982) US: Gold
Beyond Appearances (1985)
Freedom (1987)
Viva Santana! (Live/Studio) (1988)
Spirits Dancing in the Flesh (1990)
Milagro (1992)
Sacred Fire: Live in South America (1993)

Summer Dreams

(1996)
Live at the Fillmore '68 (1997)
Supernatural (1999) US: 15x Multi-Platinum

[

12

]

The Essential Santana (2002)
Shaman (2002) US: 2x Multi-Platinum
All That I Am (2005) US: Gold
Albums as a solo artist or in collaborations
Carlos Santana & Buddy Miles! Live! (1972; with Buddy Miles) US: Platinum
Love Devotion Surrender (1973; with John McLaughlin) US: Gold
Illuminations (1974; with Alice Coltrane)
Oneness: Silver Dreams, Golden Reality (1979)
The Swing of Delight (1980)
Havana Moon (1983; with

Booker T & the MGs

, Willie Nelson, and The Fabulous Thunderbirds)
Blues for Salvador (1987)
Santana Brothers (1994; C.S. with Jorge Santana & Carlos Hernandez)
Carlos Santana and Wayne Shorter - Live at the Montreux Jazz Festival 1988 (2007)
Unofficial releases
Samba Pa Ti (1988)
Persuasion (1989)
Latin Tropical (1990)
Santana (1990)

The Big Jams

(1991)
Santana Jam (1994)
With a Little Help from My Friends (1994)
Jin-Go-Lo-Ba (1994)
Soul Sacrifice (1995)

Santana Live

(????)

Jingo and more famous tracks

(????)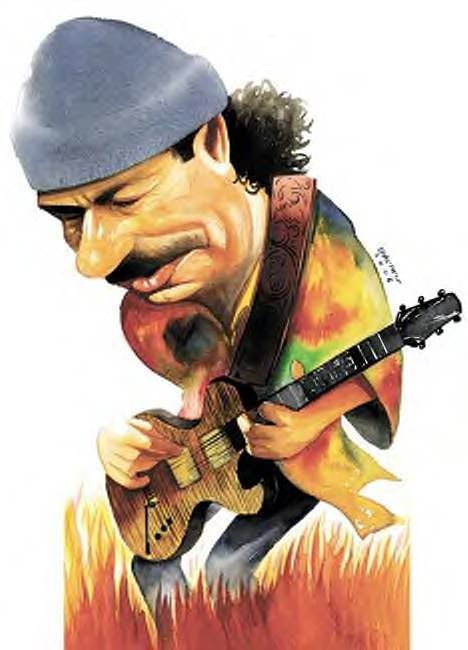 Singles
1969: "Jingo" #56 US
1969: "Evil Ways" #9 US
1971: "Black Magic Woman" #4 US
1971: "Oye Como Va" #13 US
1971: "Everybody's Everything" #12 US
1972: "No One to Depend On" #36 US
1974: "Samba Pa Ti" #27 UK
1976: "Let It Shine" #77 US
1977: "She's Not There" #27 US, #11 UK
1978: "Well All Right" #69 US
1979: "One Chain (Don't Make No Prison)" #59 US
1979: "Stormy" #32 US
1980: "You Know That I Love You" #35 US
1981: "Winning" #17 US
1981: "The Sensitive Kind" #56 US
1982: "

Hold On

" #15 US
1982: "Nowhere to Run" #66 US
1985: "Say It Again" #46 US
1999: "

Put Your Lights on

" (featuring

Erik Schrody

)
1999: "Smooth" (featuring Rob Thomas) #1 US, #3 UK (charted in 2000)
2000: "Maria Maria" (featuring The Product G&B) #1 US, #6 UK
2002: "The Game of Love" (featuring Michelle Branch) #5 US, #16 UK
2003: "Nothing at All" (featuring Musiq Soulchild)
2003: "

Feels Like Fire

" (featuring Dido) #26 NZ
2003: "Why Don't You & I" (featuring Alex Band) #8 US
2005: "I'm Feeling You" (featuring Michelle Branch) #55 US
2005: "Just Feel Better" (featuring Steven Tyler) #8 AUS
2006: "Cry Baby Cry" (featuring Sean Paul and Joss Stone) #71 UK
2006: "Illegal" (Shakira featuring Carlos Santana) #4 ITA, #11 GER
2007: "No Llores" (Gloria Estefan featuring Carlos Santana, José Feliciano and Sheila E.)
2007: "Into the Night" (featuring Chad Kroeger) #2 CAN, #5 SA, #5 Italy, #19 Germany, #26 US
2008: "This Boy's Fire" (featuring Jennifer Lopez with Baby Bash)
2008: "Fuego en el Fuego" (Eros Ramazzotti featuring Carlos Santana) #19 Spain
sources:wikipedia the free encyclopedia , internet , youtube