Ouran High School Host Club
Yesterday i saw the last episode of Ouran High School Host club... I LIKED sO MUCH!!! AND ALL CHARACTERS ARE FANTASTIC , EACH ONE ON HIS KIND!! SO I AM GOING TO SHARE WITH YOU THE PLOT OF THIS ANIME AND MANY PHOTOS , WHOSE I FOUND IN THE INTERNET
THANK YOU .....^_^
Haruhi Fujioka is a scholarship student at Ouran High School, a fictional school located in Tokyo. Because of the superlative cost of the school uniform, Haruhi resorts to wearing long slacks, polo shirts and vests. Combined with her large glasses and tousled short hair, Haruhi's look causes her to be confused for a boy.
Looking for a quiet place to study, Haruhi stumbles upon the Third Music Room, the working place of the Ouran Host Club, a group of six extremely attractive male students (Takashi Morinozuka, called "Mori"; Mitsukuni Haninozuka, called "Hunny"; twins Kaoru and Hikaru Hitachiin; Tamaki Suoh, and Kyoya Ootori) who spend their time charming and entertaining the school's girls for profit. During their first meeting, Haruhi accidentally knocks over and breaks a vase valued at ¥8,000,000
In order to pay off the large debt, Haruhi is employed as the club's "dog" and is constantly ordered to do menial tasks like serving food or cleaning up. The club president, Tamaki Suoh, without knowing she is really a girl, promotes Haruhi to "host" as soon as he discovers her potential. Even after the truth comes out in the Club, Haruhi continues the charade and is allowed to pay off the rest of her debt working as a host; in order to accomplish this, Haruhi conceals her true identity/gender from the customers and the school.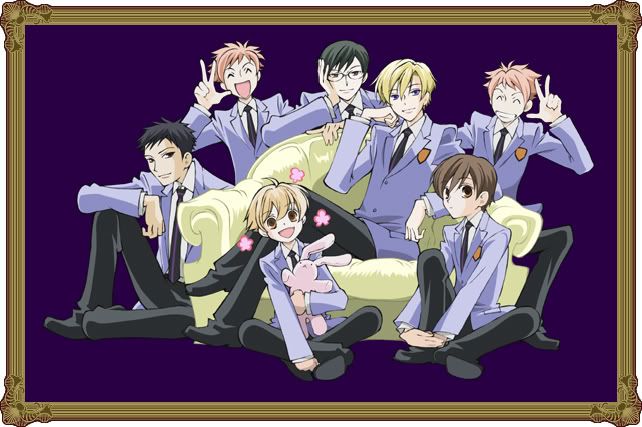 Characters:

---------------------------------------------------------------------------------------

Kyoya Ootori
-----------------------------------------------------------------------
Hikaru and Kaoru Hitachiin
-------------------------------------------------------------------------

Mitsukuni "Hunny" Haninozuka
--------------------------------------------------------------------------------
Takashi "Mori" Morinozuka
--------------------------------------------------------------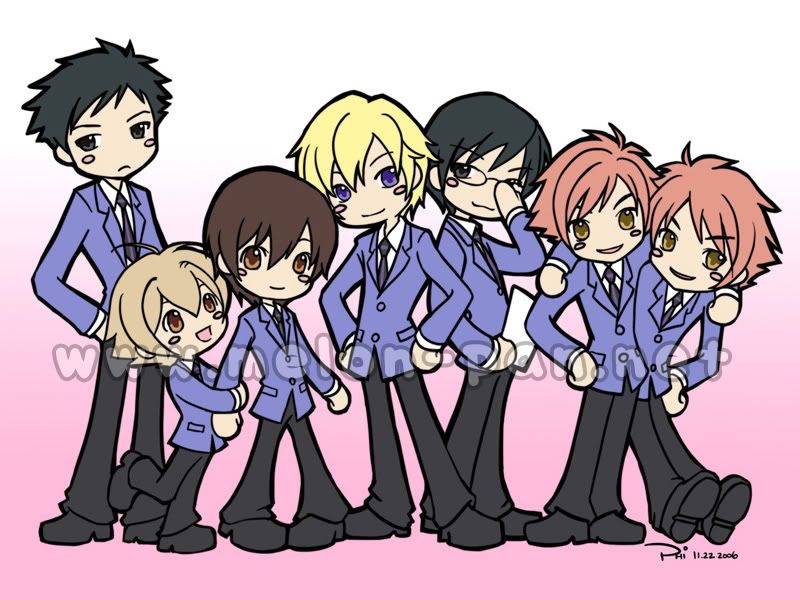 article's sources:a)INTERNET and b)wikipedia the free encyclopedia