Last night i saw a movie with my brother and my cousins. It 's called War Games 2:The Dead Code.I watched and i liked so much.We had an beautiful evenning with popcorn and good company .My father floated an idea to see this film cause he has seen the first movie of War Games in 1983.The Dead code is a sequel of the first....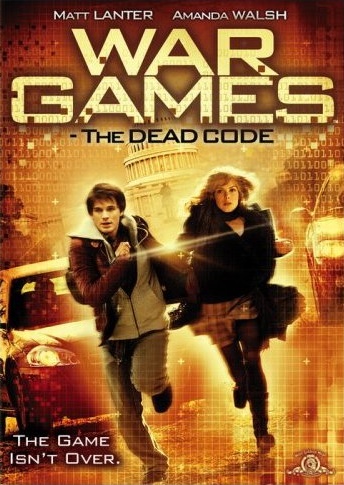 War Games:The Dead Code
PLOT:
American Goverment has created a super computer .It's is named R.I.P.L.E.Y. That computer can cotrol every electronic appliance.From TVs , cameras,
traffic lights.......
to battleplanes/fighters to
drop a bombs and kill million people ,as and satellites
.They have instaled a online game to RIPLEY .It's a war game , every person in the world can play it and wine milions dollars. But is a trap.Goverment wants to search out terrors....A hight school stundent repairs his neibour's computer and finds out illegal money's
displacement
and his friend want to play this game.So the boy -Will Farmer wins the game..and Ripley starts watching him...His neighbour and mother are arrested by secret services.He goes to Montreal-Canada and Secret agents try to catch him.....but he is just a boy not a terrorist.A adventure trip begins,...on the other hand Ripley is confused, and it thinks that the game is true, so is getting ready to save the city where Will killed 100.000 persons and is doing to connect with fighters(airoplains) so it'll drop bombs to clean the city by the terrorists .. only one can stop this super computer .JOSHUA, the last one.Joshua was the super computer of first movie , and it had the same problem as Ripley The constractor of Joshua finds them and helped Will to save the city..Will is arrested by The goverment
but no one can stops it until Joshua O.S is uploading to Ripley's and two computers star playing War Games. Ripley is mad and wants to destroy the world ,but Joshua maybe has an old software but shows to Ripley that the best way to wine someone is not to make any movement ..
Please see it. It's an interesting film with action, drama, and full of suspence !! you 'll have fun ..
I'llm try to find The first film WAR GAMES